Post-Doctoral Fellows Alumni
Andrea Kleinsmith
Dr. Kleinsmith is an assistant professor in the Department of Information Systems at the University of Maryland, Baltimore County (UMBC) and the director of the Affective Behavior Interaction Lab.
Her primary research interests are in Affective Computing and Human-Computer Interaction and focus on measuring and modeling affective nonverbal behavior, particularly body expressions. Her current aim is to build training systems for complex real world situations with populations such as first responders and other emergency services.
Before joining UMBC, she held postdoctoral researcher positions with Professor Ben Lok in the Virtual Experiences Research Group in the Computer and Information Science and Engineering Department at the University of Florida and with Dr. Marco Gillies in the Embodied AudioVisual Interaction Group at Goldsmiths, University of London in the UK. She received a PhD in Computer Science from University College London, UK, an MSc in Computer Science from the University of Aizu in Japan, and a BA in Psychology from the University of Oregon.
Regis Kopper
Dr. Regis Kopper is the Director of the Duke immersive Virtual Environment (DiVE).
Before joining our team, he was a Post-Doctoral Associate at the Virtual Experiences Research Group at the University of Florida, where he researched the value of virtual humans in interpersonal skills training. His research interests include 3D user interfaces, virtual human interaction, novel interaction techniques and large high-resolution displays.
After receiving a BA (2004) and MS (2006) from the Pontifical Catholic University in Porto Alegre, Brazil, he went on to obtain his PhD (2012) from Virginia Polytechnic Institute and State University (Virginia Tech).
Dr. Kopper is a recipient of the best paper award in the IEEE Symposium in 3D User Interfaces and was a member of the first team to be awarded the 3D User Interfaces Grand Prize. Earlier on, he was invited to present his B.S. graduation thesis at the Third Young Investigator's Forum in Virtual Reality, where he was the only undergraduate to participate.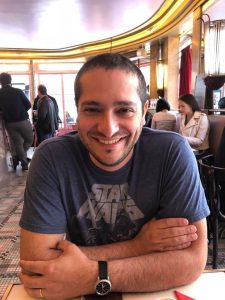 Alexandre G. de Siqueira
Dr. Gomes de Siqueira is an Assistant Instructional Professor at the Department of Computer & Information Science & Engineering. His research interests are in multimodal interaction combining tangible user interfaces with multi-touch, augmented, and virtual reality. He is also interested in the maker movement and how rapid digital prototyping can be brought to the masses. He has been spending most of his time lately exploring and implementing Virtual 3D Social Spaces for enhanced learning environments. He has collaborated with multi-disciplinary teams of musicians, communication scientists, and physicians both from the academy and the industry across multiple projects. He enjoys designing, making things, and tinkering with them.
2011, Dr. Aaron Kotranza (Chief Technology Officer, Shadow Health, Inc.)
2010, Dr. Yong Ho Hwang
2008, Dr. Andrew Raij
Ph.D. Alumni
Mohan Zalake
My research involves around developing embodied conversational agents (ECAs). ECAs are computer generated human-like 3-D characters and converse through natural language-style dialogues with humans. I am particularly interested in creating interactive ECAs as an interface to deliver and collect medical information. Although a large population is aware of conversational interfaces like smart home speakers, very few are familiar with ECAs. My research focuses on identifying and understanding user needs of diverse healthcare population to build intuitive and usable ECA interfaces.
I have also developed several virtual reality experiences which demonstrate the applicability of virtual reality in various domains. My interests include virtual reality, natural language processing, machine learning, computer graphics, and human-computer interaction. You can find more about me here.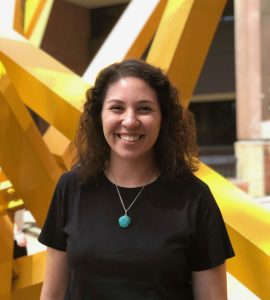 Stephanie Carnell
My dissertation uses virtual humans to improve communication between doctors and patients. I have been inspired by language and how people use it since I was very young, as I have always loved literature and storytelling. Fortunately, my work at VERG has allowed me to combine this passion for language with my other passion, computer science, enabling me to conduct research that is both exciting in a technical sense and in its ability to impact real people for the better. For more about me, please check my website!
Fatemeh Tavassoli
I am a PhD Student in Human Centered Computing. My research interests include Virtual Reality, Augmented Reality and Human Computer interaction. I'd love to use these techniques to help autistic children. As they are naturally attracted to technology, such as robots and screen-based media, we can offer virtual reality  exergames to improve their social behaviors.
Andrew Cordar
My passion is creating compelling virtual human experiences. As a PhD student, I worked on improving healthcare professionals' interpersonal skills in the operating room through team training with mixed reality humans.

Shiva Halan
I am a 6th year Computer Science PhD student with a Masters degree in Electrical and Computer Engineering from UF. My interests are in using virtual humans and virtual reality technology to create opportunities for learning, therapy and behavior change. At VERG, I have been investigating having healthcare students create virtual patients for training them with their interviewing and interpersonal skills.

Michael Borish
I am a 5th year student working with virtual humans. I want to know how people can be leveraged to improve the virtual humans we work with. My research focuses on virtual human improvement through a combination of crown-sourcing and machine learning techniques. The crowd can assist in everything from virtual human creation to animation and language processing. This assistance can implicitly inform machine learning models that drive the next iteration of virtual humans. 
Diego Rivera-Gutierrez
I am a senior PhD student. My work uses in-action reflective learning to help medical professionals understand their own cultural biases and improve their empathy towards patients. This technique gives students an opportunity for self-assessment and gives them hints to help improve their performance. Using this technique students can reflect about their performance and identify what skills they need to develop to become better professionals.
Andrew Robb
Andrew's research focuses on the use of virtual humans to support protocol-driven team training. Team training is of great importance in many fields, including medicine and aviation, yet busy schedules mean people rarely have opportunities for team training by serving as drop-in replacements for missing teammates.
Joon Hao Chuah
Joon joined VERG as a PhD student in the fall of 2008. He graduated from the University of Texas at Austin in 2006 with both a BS in Computer Science and a BA in Asian Cultures and languages. In the years between graduating and enrolling at UF, Joon worked as a software engineer for a start-up in Austin called 21st Century Technologies. Virtual humans typically have low physicality, that is they exist in purely virtual environments with little awareness of the physical space.
Xiaoning
Xiaoning was a Visiting Scholar in the CISE department and a PhD Candidate at the Ocean University of China. His research interests include virtual reality, computer graphics and geographical information systems. During his time with VERG, Xiaoning helped develop the Cranial Nerve project. Considering that language, cultural background, and level of education are all factors that interpersonal medical interactions, he also researched the differences in these between American and Chinese people. 
2011, Dr. Brent Rossen (Software Development Engineer In Team, Microsoft)
2009, Dr. Aaron Kotranza (Chief Technology Officer, Shadow Health, Inc.)
2009, Dr. John Quarles (Associate Professor, University of Texas at San Antonio), LINK Fellow
2008, Dr. Andrew Raij (Universal Studios)
2008, Dr. Kyle Johnsen (Associate Professor, University of Georgia), HMMI Grad Student Mentor Award
M.S. Alumni
Doaa El Sheikh
Doaa was an MS student at UF's CISE department. Prior to joining VERG, she attained a bachelor degree in Electrical Engineering from Cairo University in Egypt. Doaa's research at the University of Florida focused on using virtual humans to show the effect of parental language barriers on the quality of healthcare that children receive.
Vaishnavi Krishnan
Vaishnavi Krishnan obtained an M.S. in Computer Engineering from the University of Florida in 2012. She graduated with a Bachelor of Engineering degree in Computer Engineering from Anna University (India) in 2006 and worked with Oracle India for 4 years before joining VERG in the summer of 2010. Modes for easy and rapid generation and application of virtual human personalities carry huge research potential. Vaishnavi's research at the lab was focused on modeling personalities for virtual humans.
Shrishail Zalake
Shrishail Zalake obtained an M.S. in Computer Science from the University of Florida in 2021. He is interested in exploring applications of machine learning and the Internet of Things (IoT) in the field of Virtual Reality (VR). Using machine learning and IoT, He wants to connect the virtual world with the physical world.

Yogesh Laxman
Yogesh Laxman obtained an M.S. in Computer Science from the University of Florida in 2022. He has three years of work experience in software engineering and domain expertise in healthcare and digital marketing. He has a keen interest in Virtual and Augmented Reality. He wants to work at the intersection of computer graphics and Machine Learning to improve the way people interact with the virtual world.
2016, Rahul Mehta
2013, Guangyan Hu (Harman International)
2011, Mallory McManamon (Amazon.com)
2010, Shivashankar Halan (Ph.D. program, University of Florida)
2009, Ethan Blackwelder
2009, Lu Cao (MFA program, University of Florida)
2005, Cyrus Harrison (Lawrence Livermore Research Labs)
2005, George Mora (Industry)
B.S. Alumni
Samantha Garcia
I am an undergraduate student interested in Virtual Reality and Artificial Intelligence. I am working on a way to enhance awareness of dyslexia through simulation in a virtual environment.
Connor Ericson
I am an undergraduate student majoring in Computer Engineering. I am interested in the many possibilities that virtual experiences have to offer.
Xiaoming Lu
I am an undergraduate student in computer science. I am interested in virtual and augmented reality. I love to try out new technology.
Dennys
I am an undergraduate student who is majoring in computer science. I am super interested in virtual reality and all it's potential.
2016, Alexis Benter (Microsoft)
2015, Carson Dolbier (Florida Interactive Entertainment Academy)
2009, Willie Maddox (Microsoft)
2008, Harold Rodriguez (GrooveShark.com)
2008, Corey Forbus (Industry)
2007, Joshua Horton (Ph.D. program, University of Florida)
2006, Robert Dickerson (Ph.D., program, University of Virginia)
2005, Aaron Kotranza (Ph.D. program, University of Florida)
2005, Sayed Hashimi (Industry)
2005, Art Homs (Industry)
2005, Andrew Joubert (Industry)
2005, Sam Preston (Advanced Engineering Center at Old Dominion University)
Past REU Students

Adina Friedman
I am an undergrad student from Southwestern University in George town TX. I am interested in developing interfaces that are intuitive and easy to understand for emergency applications.

Ileri Akinnola
I am an undergrad student from the University of Maryland, Baltimore County. I am interested in mixing together aspects of computer science and psychology, more specifically, I am interested in making AI more human, using concepts learned from my psych minor.