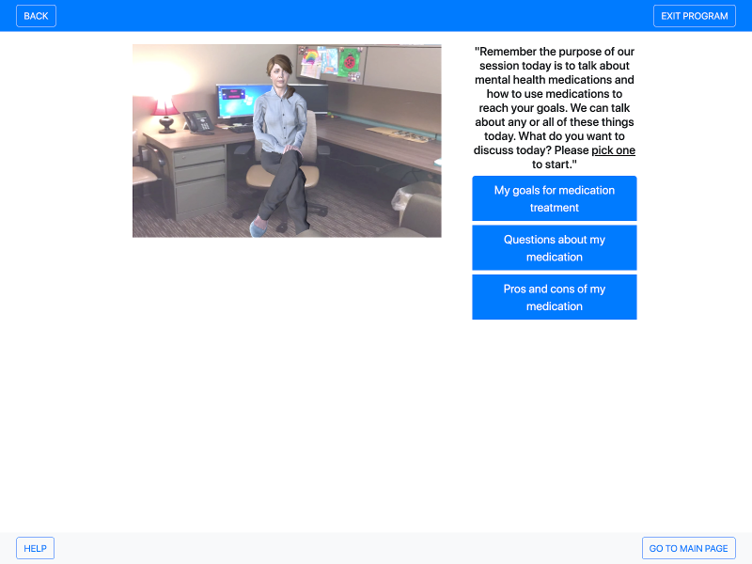 Funded by the National Institutes of Health
VERG members: Shrishail Zalake, Stevie Carnell
Goals:
GET PrEPD: Goal Elicitation, Treatment Prioritization, & Electronically-Practiced Discussion) to enhance patients' ability to partner with their providers and effectively advocate for their own needs.
We are currently working on Get Prepd Psychiatry for patients with serious mental illnesses and on Get Prepd Pain for minority patients suffering from chronic pain.
The main goals for Get Prepd include Patient Activation and Shared
Decision Making(SDM).

Patient Activation-The Patient Activation Measure is a commercial product which assesses an individual's knowledge, skill, and confidence for managing one's health and healthcare
Shared Decision Making(SDM)-When SDM takes place, patients and providers share information, express preferences, discuss risks and uncertainties, and ultimately agree on a plan.
Collaborators
Indiana University–Purdue University Indianapolis(IUPUI) team: Jennifer Garabrant, Adam Hirsh, Michelle Salyers
Developers: Yuzhu Dong and Dusty Hunsaker
Our role as virtual agent researchers: Our team is developing a web application that features the virtual providers with whom patients can talk to.
Target Audience:
Patients with serious mental illnesses

Minority patients suffering from chronic pain
Our approach:
We are creating a virtual provider to help patients practice talking to their doctors. The virtual provider guides patients through a number of topics related to their current medical illnesses and potential questions they may have for their doctors.
Description of User Testing/ Evaluation, if any:
Get Prepd is still under development, but portions of it have been usability tested with a general audience on PlaybookUX. Check out one of our usability sessions below:

https://youtu.be/9oFfWE-nKwg